Ghost Soldier - the New Book from Theresa Breslin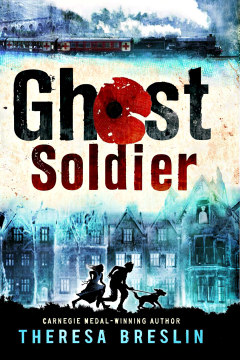 Rob and Millie's father goes missing in action while serving at the front during the First World War. The children desperately search the hospital trains returning to Edinburgh with the wounded. But there's no sign of him.
- - -
GHOST SOLDIER is a book for mid-range readers written to commemorate the 100th anniversary of the outbreak of the outbreak of WW1. A mystery plus detective story with poignant scenes as two children, in a desperate search for their 'missing-in-action' father, meet the staff and wounded men on the hospital trains that stop near their farm. But what is happening in the old house in the nearby woods where the children have hidden their puppy to prevent him being recruited as a war dog? Who is the shadowy figure in the attic window? There's no such thing as ghosts – is there?
Published September 2014 - more details
Latest News
Ghost Soldier - Lesson Plans and Activities are now available - Free Download from TES
Ghost Soldier has been nominated for the 2015 Carnegie Medal - see the full list on their site
What's more important than football?
Graham and Joe just want to play football and be selected for the city team, but a violent attack on Kyoul, an asylum seeker, changes everything as they're drawn into a secret pact to help the victim and his girlfriend Leanne. Set in Glasgow during the Orange marching season, Divided City is a gripping tale about two boys - one a Rangers fan, the other a Celtic fan - and how they must find their own way forward in a world divided by difference.
DIVIDED CITY won the RED Book Award and Catalyst Book Award and has been shortlisted for eight other Book Awards.
Major national reading initiatives include the Government funded 'Boys into Books' scheme & and a community reading project in Ireland via the EU Programme for Peace and Reconciliation
One of her most talked about books, Theresa visits schools, festivals and education conferences worldwide to discuss the issues raised in Divided City
Recent Books
Award Winning Books
Theresa's first book, Simon's Challenge, won the Young Book Trust Fidler Award for new writers and for Whispers in the Graveyard, her remarkable story about a dyslexic boy, she was awarded the Carnegie Medal.
Remembrance, a tale of youth in World War One, was selected for the American Library Association's Best Books for Young Adults, and New York Public Library's Books for the Teen Age.
Divided City, a compelling and courageous story of two boys who must find their own way forward in a world divided by difference, won the Catalyst and the RED book awards and was shortlisted for eight others.
Prisoner of the Inquisition won the teenage section of The Historical Association, Young Quills Award, and was voted favourite book by the young people shadowing the Carnegie Medal Book Awards.